Sunny Nwazue is the main character of Akata Witch. She is a 12- year-old albino Nigerian-American and a Free Agent, a Leopard person born to Lamb parents.
Personality Edit
Sunny is very optimistic, intelligent and independent opinionated young woman. She is often bullied for her appearance as she has albinism and people often call her a 'white girl' or "Akata Witch".
Sunny enjoys playing soccer but did not always have a chance to both because of her albinism and also because she is a girl.
Appearance Edit
Sunny is tall, with a slender and athletic build. She has pale skin and yellow blonde hair. Her long hair was cut short after being burned by a candle, so that she then had an afro. Her eyes are a washed out hazel.
Background Edit
Early Life Edit
Sunny is the youngest of three children, unlike her two older brothers Sunny was born in New York, the United States where she spent most of her early life and moved to Nigeria at age of 9. Sunny is of mixed ethnic tribe her father is Igbo and her mother is Efik.
At 2 years old Sunny fell gravely ill due to malaria an event that she has a clear memory of, She recalls seeing a glowing light that floated above her head and soothed her and most likely healed her of the disease.
Recent Events Edit
Akata Witch
During a power outage, Sunny stares into a flame and has a premonition of a fiery apocalypse.
Akata Warrior
Relationships Edit
Ozemena - Sunny's maternal Grandmother from who she inherits her Leopard abilities from.
Orlu Ezulike - Sunny knew Orlu as the quiet boy in her class and one of the few classmates to stand up for her when she was being bullied. Sunny got into a fight with Jibaku, (a bully) and Orlu tried to stop it but got punched in the face. Soon after, Orlu and Sunny started walking home together, enjoying each others company while being glad to have someone there in case the mysterious murder Black Hat Otokoto strikes.
Chichi of Nimm - Sunny first meets Chichi when walking home with Orlu. At first Sunny despises Chichi because of her outrageous personality and lack of manners. But soon the two become close friends, and Chichi helps Sunny on her way to learning all of the Leopard People rules.
Della the wasp - Sunny is gifted a small blue bean egg that hatches the wasp artist and names her Della. Sunny grows fond of Della and genuinely appreciates the sculptures that she creates.
Leopard AbilitiesEdit
Sunny possesses the basic Leopard abilities, she can cast spells, create potions and wield a Juju knife and can summon a spirit face.
Special Abilities Edit
Being a Leopard person with albinism is a rare occurrence, it is said that they have a connection to the wilderness Sunny can access there whenever she wants. Sunny's connection to the wilderness, is what makes her invisible, able to pass through cracks and play with time as time does not exist in the wilderness. Sunny premonitions come from beings from the wilderness showing her.
Spirit Face Edit
Sunny's spirit name is Anyanwu, her spirit face reflects her name which is bright and yellow like the sun.
Juju Knife Edit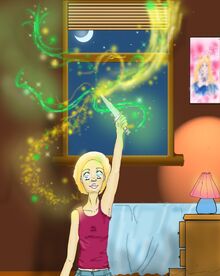 Sunny acquired her knife from the Junk Man in Leopard Knocks market, the handle is smooth basic silver and the blade is paper thin and made from a mysterious and rare clear green glass that came from a mythical place called Ginen that is to be accessible in the middle of the Sahara desert. The knife cut Sunny's hand thus choosing her to be the knife's wielder.
Favourite books include Her Stories by Virginia Hamilton and The Witches by Roald Dahl
Sunny's Juju knife is made of the same material that Sarauniya Jaa's sword in Nnedi Okorafor's book The Shadow Speaker. The blade came from a mystical land called Ginen where Zahrah the Windseeker is set linking all three books in the same Universe
Nnedi Okorafor based Sunny off a real-life girl Sandra Marume, a family friend. She is mentioned by name in the dedication page.
Anywanwu means eye of the sun and is the name of the Alusi from the Igbo pantheon. It is also a common Igbo last name.
Sunny lives in Aba, Nigeria
Community content is available under
CC-BY-SA
unless otherwise noted.